Telegram channels usually have to deal with unwanted situations when they just can't broadcast the messages right away.
Unfortunately, this standard function is not provided yet in Telegram. So to do it, you need specialized bots.
In this tutorial, I am going to show you how to schedule your posts in Telegram.
Best method for scheduling Telegram posts
We have only one recommendation that is to use @ControllerBot.
This is the only bot that has this function so far. It is used by more than 30 000 account owners.
Support services are always online and functional is keep up-to-date everyday.
In one of the latest updates, the tool appearance has changed, making it harder to make a publication.
There are also some concerns about security (You have to provide developers your token)
The following guide will show you how to connect @ControllerBot to your channel:
Type /addchannel command to the Controller.
Choose the "Connect a new bot" option. You only need one bot to use it for all your channels.
You will receive a link to @BotFather. Press "Start" button to start a dialogue and send the /newbot command
Choose the bot's name and username. You can choose any available bot that you want.
When it is ready, you need to type the received answer to @ControllerBot or just copy and paste your token.
Set the created bot-account as an administrator. To do that, open Channel's Settings: Admins → Add admins (to add a new one) → type your bot's username in search box. Then select and add it to administrators list.
Send your channel's username to @ControllerBot or just send any message (The 2nd option is suitable for private communities).
Your channel is connected to the Controller. All you have to do rest is to choose your home town to identify your time zone.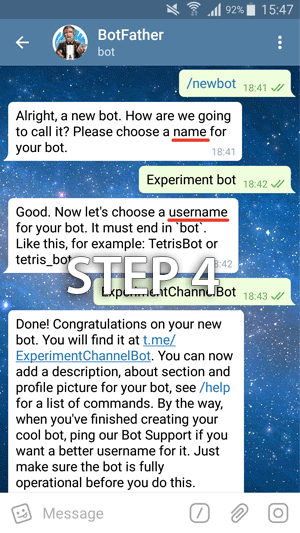 Now let's give some advices about publication procedure:
Choose groups/channels where you want to schedule your posts.
Provide required information to the bot (videos, text or even stickers).
You can show reactions, button or personalize notifications. We will talk about these function later.= below.
You need to decide to publish your message right away or later.
You can choose time for the schedule. And remember that date should have following format: Hours/Minutes/Day/Month including spaces. For example, 8 45 9 12 means 8:45, September 9.
When ready, press the "Next" button, your information is saved and will be published on schedule.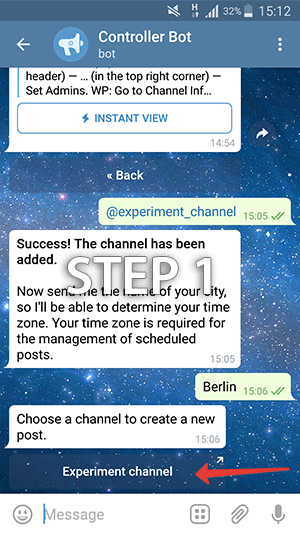 You can also view the content, change schedule or delete any of them in the "Post administration" menu.
If you want to edit tour published information, use the Controller to type the message from the channel to your dialogue. Send the correct text to change it.
What is the purpose of scheduling Telegram posts?
Yes, some users might think that this function is unnecessary. So we will we tell you some reasons why using timer to bring out publication is efficient.
Firstly, you can forget about the content deficiency and keep your followers not worrying about nonscheduled articles because all plans are set by @ControllerBot.
Secondly, you can save time. With the help of @ControllerBot, you can prepare your material, time it for publication and still can deal the content and formatting in the messenger at the same time.
The other functions of the ControllerBot
Besides saving delayed post in Telegram, it still have some interesting features:
HTML or Markdown text formatting
This bot knows Native Markdown (available on smartphones) and can show messages containing formatting.
You can add reactions for your messages
This bot has attaching reactions and URL-buttons function by selecting the "Add reactions" and "Add a keyboard" buttons when making a publication.
You can also choose Emoji-likes (6 emoji at most).
Also have needed command to create an inline-keyboard: Name of Button 1 – Link 1.
Reactions are available in the @like bot.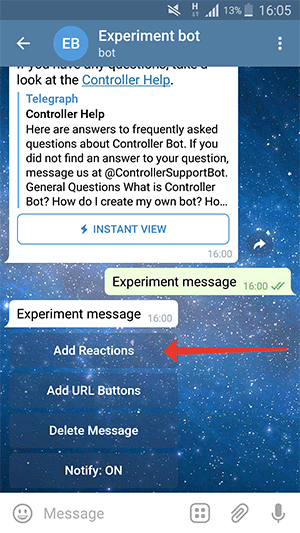 Use the /stats command to show statistics about followers numbers in PNG format.
You may connect to other admins. In that way, they can publish information as one Telegram-bot.
You should give all mentioned function above a try on your audience, maybe this tool will be irreplaceable for you.
Hopefully you have found the best way to schedule Telegram posts in this tutorial!